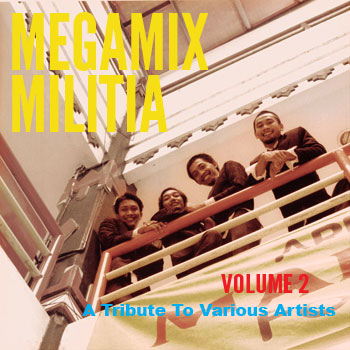 Kompilasi Megamix Militia Vol. 2: A Tribute To Various Artists telah dirilis oleh Yes No Wave Music pada tanggal 8 Februari 2011. Album yang dapat diunduh gratis ini menggunakan lisensi Creative Commons BY-NC-SA. Berikut ini kutipan dari liner-note yang dipublikasikan di situs Yes No Wave Music:
Dalam kompilasi Megamix Militia Volume 2, kita dapat melihat variasi jenis aksi tribute yang dilakukan oleh berbagai musisi, dalam berbagi periode. Periode tahun '60-an diwakili oleh lagu Mimpi Diraju milik Titiek Sandora yang telah disebutkan di awal tulisan. Periode '80-an diwakili oleh Johan Untung dalam Hati yang Luka yang menggunakan melodi lagu "I Don't Want To Talk About It" milik Rod Stewart. The Upstairs menyanyikan lagu rakyat Sumatra Barat, "Kampuang Nun Jauh Dimato", yang merupakan bagian dari domain umum dan tidak berhak cipta. Jeje GuitarAddict, Shorhand Phonetics, dan kitschelektrowerk merupakan contoh musisi yang memodifikasi lagu orang lain, dan mendistribusikannya lewat internet. Frau menggubah lagu Melancholic Bitch dan ia rekam bersama dengan vokalis band tersebut. Zoo menyanyikan lagu wajib nasional, Berkibarlah Benderaku, karya Ibu Soed. Teknoshit memodifikasi lagu mars demonstrasi '90-an, Darah Juang, karya John Tobing. Sedangkan Bibir Merah Berdarah, menggunakan puisi milik WS Rendra sebagai lirik lagu, dalam Sajak Sebatang Lisong. Selain variasi aksi tribute, Megamix Militia Vol. 2 juga menunjukkan kemungkinan-kemungkinan kolaborasi yang telah dieksplorasi oleh para musisi dalam kompilasi ini.
Track List:
01. The Upstairs "Kampuang Nan Jauh Dimato"
02. Jeje GuitarAddict "Keong Racun"
03. kitschelektrowerk "Tranquil Under Their Feet"
04. Titiek Sandora "Mimpi Diraju"
05. Frau "Sepasang Kekasih Yang Pertama Bercinta Di Luar Angkasa"
06. Johan Untung "Hati Yang Luka"
07. Shorthand Phonetics "Sajak Melawan Waktu"
08. Zoo "Berkibarlah Benderaku"
09. Teknoshit "Darah Juang"
10. Bibir Merah Berdarah "Sajak Sebatang Lisong"
UNDUH GRATIS DI
YES NO WAVE MUSIC
Produced by KUNCI Cultural Studies Center
Compiled by Wok The Rock
Cover design by Wok The Rock
Photo by Cosilia Wulandari taken from "Here, There and Everywhere" series
Track 01 taken from "Menaralara" EP, self-released, 2010. Original song written by Aminos.
Track 02 taken from the album "Progressive Metal Cover", self-rekeased, 2010. Originally written by Abuy, performed by Lissa.
Track 03 released by kitschelektrowerk. Originally written and performed by Tika
Track 04 taken from "Mimpi Diraju", Mutiara, 1970. Lyrics written by Usyi. Originally written by Serge Gainsbourg, performed by Jane Birkin.
Track 05 taken from "Starlit Carousel", Yes No Wave Music, 2010. Originally written and performed by Melancholic Bitch.
Track 06 originally titled "I Don't Want To Talk About It", performed by Rod Stewart.
Track 07 released by Shorthand Phonetics, 2010. Originally written and performed by Pure Saturday.
Track 08 taken from "Trilogi Peradaban", Yes No Wave Music, 2009. Originally written by Ibu Soed.
Track 09 taken from "Electronic Revolution", self released, 2000. Originally written by John Sonny Tobing.
Track 10 released by Bibir Merah Berdarah. Lyrics taken from a poetry written by WS Rendra.